What is DanceSport?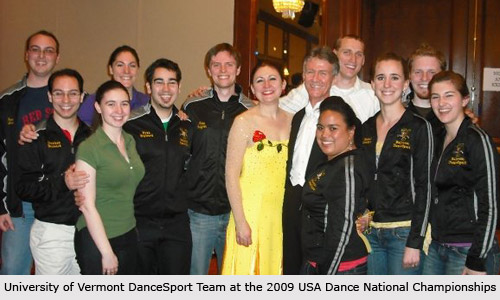 DanceSport is the name for competitive ballroom dancing.

Ballroom dancing originated in England during the late 18th and early 19th century, primarily as a social activity for the upper classes. As time went on, public dance "assemblies" also became a popular recreation among working class people. Ballroom competitions began in the early 1920s and have continued to mature in both technique and popularity ever since.

Today, there are two divisions of International competitive dancing: the Standard dances (Waltz, Viennese Waltz, Foxtrot, Quickstep, and Tango), and the Latin dances (ChaCha, Jive, Rumba, Samba, and Paso Doble,) Just as in ice dancing, each dance has a specific character and technique on which competitors are judged.

Amateur dancers can compete in a variety of age groups: Pre-Teen, Junior, Youth, Adult (ages 18-35), Senior I (age 35+), Senior II (age 45+), Senior III (age 55+), and Senior IV (age 65+). Dancers also compete in variety of proficiency levels, from beginners (Bronze) through Championship. Though most competitors are very serious about their dancing and work hard to prepare, competitions are also great fun. We have met many of our closest friends when either training or competing.
What does it look like?
A Pre-Teen jive couple at the 2022 USA Dance National Championship (from YouTube.com, includes sound)
A Junior chacha couple at the 2008 Manhattan Amateur Classic (from YouTube.com, includes sound)
Youth Tango final at the 2008 World Championships (from YouTube.com, includes sound)
An Adult couple in a Waltz round at the 2021 WDC World championships (from YouTube.com, includes sound)
A Senior I Championship level Viennese Waltz event at the 2008 USA Nationals (YouTube.com, includes sound)
DanceSport and the Olympics
The development of ballroom dancing as a sport began to take shape in the early 1990's. "DanceSport", as it has become known, is based upon models approved by the International DanceSport Federation (IDSF) for use worldwide. In 1997, the International Olympic Committee (IOC) granted recognition to the International DanceSport Federation as a full member of the IOC. Full membership in the IOC means acceptance of DanceSport as a legitimate sport, and is the first step toward becoming an an Olympic medal sport. The IDSF currently has 86 National Member Federations on five continents.
In the United States, USA Dance (the US amateur ballroom dance association) is a member of the International DanceSport Federation (IDSF) and is also recognized by the United States Olympic Committee as the National Governing Body for DanceSport. United States National titles and the opportunity to represent the United States at the IDSF World Championships are awarded at the annual USA Dance National DanceSport Championships.